Snack Machine
The UCC Snack Vending Machine
This Page is Hopelessly Out of Date. Someday it will be updated.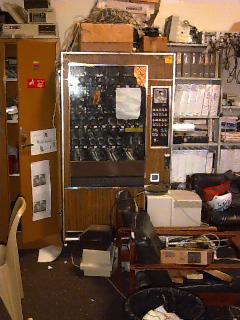 Following on from the success of the clubs Drinks machine (aka Coke machine), we decided to install a snack machine.
Our first attempt at converting a snack machine to this purpose was organised by James Bromberger, who hunted around several companies and finally found a Perth company who had an old machine they could donate.
Rob Banks from Eagle Vending (ph: +618 9328 5377) arranged for us to have a 25 year old machine. This was delivered to our club room (two floors up) by two delivery men and several UCC Volunteers. It was so big that it wouldn't fit through the door until, after 4 hours, we had removed the Club room door, the Vending Machine door, and the Vending Machine dispense mechanism.
Once we had it installed in our Club room, our members set about playing with the mechanisms that contolled it, learning how we would make the interface between the existing charging and dispensing system in the machine and a microprocessor, which would be the link via our Sun 3 machine (at the time) to the 'Net.
We intended to tie this in with our home made accounting software that controls our Drinks Machine, however the first machine broke in quite a number of places partly due to its age and design. This was disappointing at the time as we almost had the microprocessor working ready for the machine.
In 1999, we managed to find another machine for sale from the Curtin University Bookshop, coming from a useful life resident in the Curtin library. After much effort, we managed to get this machine up the stairs (hey, we'll be experts the next time :) )
This machine was manafactured by Rowe International Inc and is significantly younger than the previous machine. The machine is of a more rugged design than the previous machine and already has a microprocessor built in.
Our challenge over the coming months is to work out how to speak to the microprocessor in the new machine.